It was just a few days before the start of the Philadelphia Flyers' season. After facing weeks worth of questions about almost every single player at training camp, head coach John Tortorella sat up at the podium in Voorhees, and faced an unfamiliar query.
What were his thoughts on Sean Walker, unheralded offseason acquisition on defense who — based on practice combinations — appeared to be a lineup lock for Game 1?
"Steady," Tortorella tersely responded. "You guys don't talk about him, but you should."
Well, almost everyone who follows the Flyers is talking about Sean Walker now.
Walker has been an early-season revelation, a mainstay on the team's surprisingly effective second pair. He's averaging over 21 minutes a night. He's already three-quarters of the way to the amount of points he put up in 70 games last season. And with the possible exception of Travis Sanheim, no Philadelphia defenseman has been more consistent or, to use Tortorella's preferred terminology, steadier than the 29-year old Walker.
Not even Tortorella, his impassionate end-of-camp defense of Walker notwithstanding, quite saw this coming in the lead-up to the 2023-24 season.
"I got information from coaches that had coached him before, and was really excited about seeing what he is," Tortorella noted during the team's recent California road trip. "But he has surprised me as he has gone through the first little section of the season here."
Perhaps Tortorella is wishing he talked more about Walker last month as well.
"I think I just wanted an opportunity to show that I could still play at a top-four level," Walker told PHLY Sports in Anaheim. "I kinda came into a situation here where I was able to get that opportunity. It's gone well so far."
Humble beginnings & a devastating injury
Opportunities have never come easy for Walker throughout his career. Unlike most established players at the highest level of hockey, Walker went undrafted by every NHL club as a teenager. And unlike almost every single Canadian NHLer, Walker was passed over by all of the major Canadian junior teams as well — a rare double-undrafted success story.
Even four strong years at Bowling Green State University couldn't earn him an NHL contract; instead, he could only garner an AHL-only deal in 2017 to join the Ontario Reign, the Los Angeles Kings' affiliate.
"I was never really given anything," Walker noted. "Growing up, I was an undersized defenseman, had to work really hard (to overcome that). That was just kinda the way it was my whole career."
But Walker persevered, and made the most of the opportunities he did get. He excelled in the AHL, putting up 28 points in 64 games, and in the process, earned himself his first NHL contract. It was only about $100,000 above the league minimum, and it came with no guarantee of game time with the Kings. But Walker made enough of a positive impression at main camp that just three weeks into the 2018-19 season, he was called up for his NHL debut, ultimately appearing in 39 games for a Los Angeles team that finished with the second-worst record in hockey that season.
Walker had achieved his dream. But he was still just a 24-year old rotational player on a cellar-dweller, the kind of piece an organization still might view as an AHL/NHL swingman over the long-term. He hadn't made it.
That didn't happen until the following year.
This time earning a roster spot right out of camp, Walker quickly established himself in 2019 as a key piece of a rising Kings blueline. He appeared in all 70 games, drove play at five-on-five while receiving nearly 19 minutes per night, and played an integral role in Los Angeles' surprising late-season 10-2-1 surge. For his efforts, Walker was handed a four-year, $10.6 million contract from Kings GM Rob Blake that fall, seemingly locking Walker into Los Angeles' increasingly bright present and future. At the very least, Walker was a quality RHD, and at 26, perhaps could grow to be even more.
Then, disaster struck.
The 2021-22 season began with Walker in a clear top-four role for the Kings, paired with offseason signing Alex Edler. But the partnership lasted just six games, as did Walker's season. Late in the first period in St. Louis, Walker became tied up with Blues forward David Perron and fell awkwardly to the ice.
He had torn both his ACL and MCL in his right knee.
The career implications went far beyond a season-long absence. Walker faced an intense rehab process, and there was no guarantee that he would be the same player upon his return. After all, Walker wasn't blessed with eye-popping athleticism and dynamic offensive ability. That's not to say Walker lacks talent, particularly in terms of skating ability. But given his unorthodox path to the NHL and the severity of the injury, it was reasonable to wonder if Walker could afford to lose much in the way of physical ability and remain a quality NHL defenseman.
Walker himself admitted going down that spiral of negative thoughts at times during his 11-month rehabilitation process.
"Yeah, I think everybody has those doubts," he acknowledged. "Being out that long, not skating, not really sure if you'll be able to play the same level that you were before — yeah, those thoughts definitely creep in your mind. But it's just an extra motivator, you just put your head down and go to work."
Walker did make it back for Game 1 of the 2022-23 season, despite an arduous rehab that he pushed through with the help of his friends and family — especially his wife Taylor. But he wasn't himself, at least not to start.
Walker had been told that he wouldn't be at 100 percent right away, by no less an authority than Blake, both his GM and a fellow Bowling Green alum who suffered a similar knee injury during his Hall of Fame playing career.
"He even said, it's gonna be a while," Walker recalled. "Definitely the second half of the year, I could just notice my skating was a lot more powerful, being able to jump into plays again. I'd say that was the turning point, when I realized I could fully skate like I did before the injury."
Walker estimated that he didn't feel fully healthy until January, a good four months into the 2022-23 season. By then, however, his lofty place in the Kings blueline rotation was long gone. Instead of 20+ minutes per night as he was receiving pre-injury — he topped out at 25:09 in Dallas just three nights before blowing out his knee — now he was lucky to crack 15.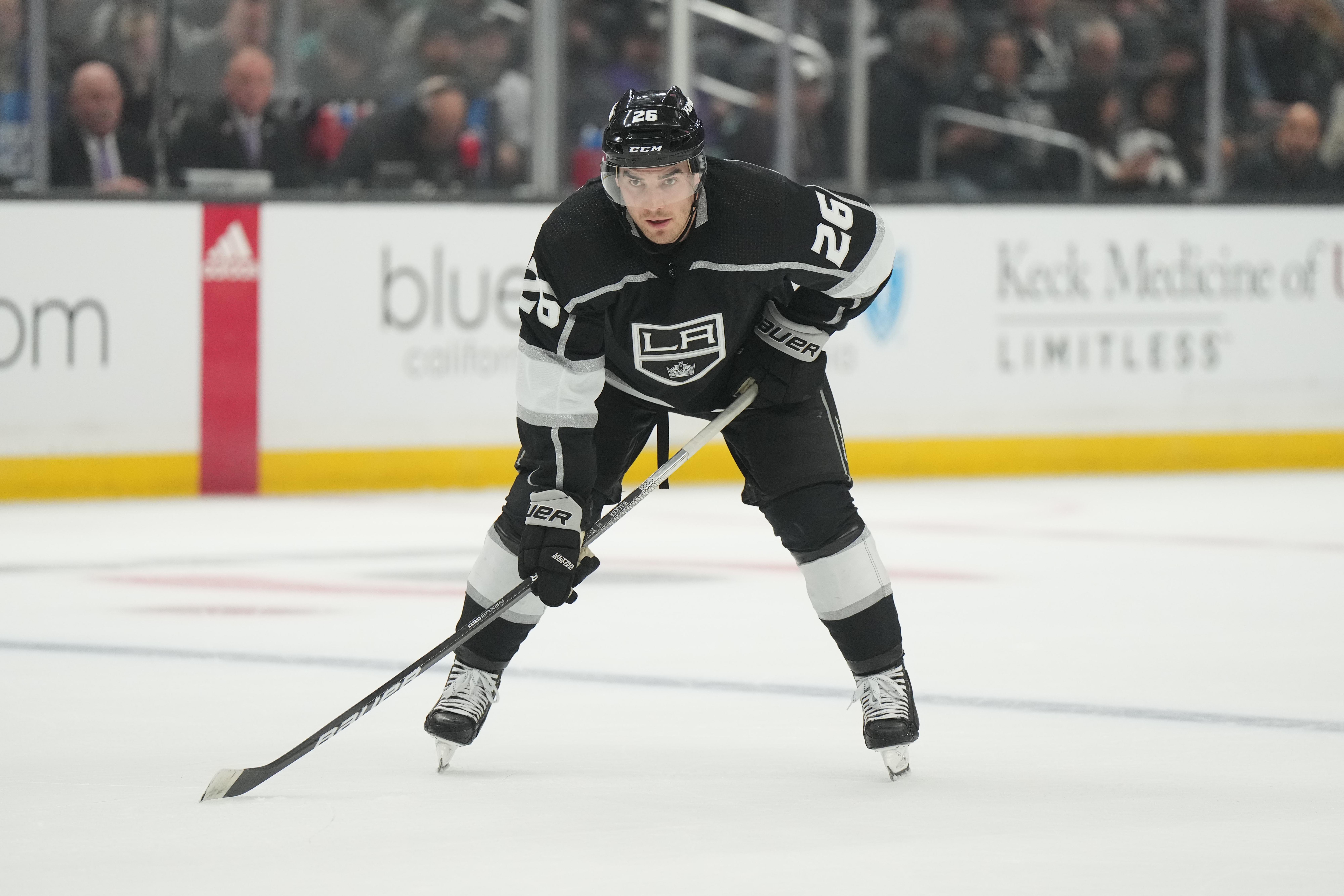 Part of it was decreased effectiveness. But Walker also faced increased competition in the Los Angeles lineup. No longer a bottom-feeder, the 2022-23 Kings were a team with expectations, after making a surprise run to the playoffs in Walker's absence the previous season, pushing the Connor McDavid-led Edmonton Oilers to Game 7 in the first round.
Now, all of Drew Doughty, Sean Durzi and Matt Roy were ahead of Walker on the right-side depth chart. Mikey Anderson had emerged as a rock-solid top-four defenseman. And after they traded for — and ultimately re-signed — Vladislav Gavrikov at the deadline — the Kings suddenly just had too many blueliners, especially with young players like 2021 eighth overall pick Brandt Clarke and Jordan Spence (two more righties) on the way as well.
Walker may have understood his newfound marginalization in Los Angeles, but that didn't mean it didn't fuel him.
"Yeah, there's a level of frustration, for sure," Walker admitted. "But they have really good players there, and that's just kinda the way the business goes. You come back from injury, guys have stepped up, have earned those minutes themselves. It is what it is. It's an extra log on the fire for me. I needed to just prove to everybody that I can do that job, and given the right opportunity, I can excel."
A fresh start in Philadelphia
That just wasn't going to be in Los Angeles anymore, though.
Given the defensive logjam and Blake's desire to re-sign Gavrikov, it seemed a foregone conclusion entering last offseason that Walker would be moved elsewhere. That's what happened on June 6, when Walker was included in the three-team deal that sent Flyers defenseman Ivan Provorov to Columbus.
Walker wasn't the centerpiece of the deal; if anything, he was an afterthought, a way to make the numbers work for each team and ensure that the Flyers could nab their desired first-round pick return for Provorov. GM Daniel Briere didn't even mention Walker's name once in his post-trade availability. Walker no longer fit in Los Angeles, and entering training camp in September, there was no guarantee he would find his place in Philadelphia, either.
Then, Rasmus Ristolainen wasn't ready for the start of the season, and basically by necessity as the team's remaining righthanded shooting blueliner, Walker jumped up into the top-four to replace him.
He hasn't left since.
First, he pushed his pairing with Marc Staal to respectability, overcoming the veteran's early struggles. Then, he functioned as the stabilizer for youngster Egor Zamula. And now, he's thriving with Nick Seeler, who spent basically all of last season in a sheltered, third-pair role.
Walker's stellar results thus far aren't because he's being carried by his partner. If anything, he's doing the carrying.
"We still struggle back there (on the blueline). There are still things that we have to work through, and go through a process and teach," Tortorella noted. "But (Walker) been a really good solidifier for us as we've started this season."
Nor is this merely a case of Walker "bouncing back" to past form. Compared to his previous best statistical season in 2019-20, Walker is getting more minutes, scoring at a higher rate, and driving play far better. That version of Walker was a perfectly capable NHL blueliner. This one is a well above-average top-four defenseman, by both the eye test and the numbers.
All metrics courtesy of Evolving-Hockey. 2021-22 not included due to knee injury.
Being fully healthy certainly has helped. But Walker also believes that Tortorella's system and points of emphasis fit his strengths as a player perfectly.
"I think just kind of the message Torts has preached from Day 1, is just being aggressive, and we want to stay on top of people," he explained. "I think that allows me to use my legs really well, and (deploy) the aggressive style that I want to play."
The mandate from the top doesn't just mean making more plays up ice with the puck, though Tortorella certainly has asked his blueliners to do that. It's about having that same mentality without the puck as well.
"The biggest thing that I like about (Walker): he's not afraid to make a mistake," Tortorella explained. "I think he's got some jam to take a chance. He's one of our best guys checking forward, pinching, 'surfing up' in the offensive zone. I think he's willing to take a chance and play aggressively that way. I think it's rubbed off on people."
"I think he's always looking for that opportunity to either pinch or surf up," his partner Seeler confirmed. "It creates offense for us. I think he does a really good job."
It's defending by attacking, and the philosophy fits Walker like a glove. It's not just that a healthy Walker is a legitimately plus skater, which allows him to close gaps quicker than most blueliners — per the new NHL EDGE tracking metrics, Walker grades out in the 88th percentile among defensemen by top skating speed and in the 82nd percentile in terms of total speed bursts over 20 mph. It's that this style of playing the position lines up perfectly with Walker's preferences.
"I definitely enjoy the offensive side of things more than the defense," Walker admitted. "So doing whatever I can to get that going, and if that may be winning a puck battle, or pinching at the right time, or joining the rush, I'm definitely going to try and do that."
But it's not merely Walker's playing style that has endeared him to Tortorella. The head coach keeps a close eye on his players at all times, trying to gauge their competitiveness — a trait that Tortorella believes is a necessity for the club that he is trying to build.
Walker has it, a by-product of his history as a long-overlooked blueliner.
"I think he's very hard on himself," Tortorella noted. "I think he wants to be good every shift, you can see that when he comes to the bench. You guys don't get to see it, you know? And to me, that's an intangible that I like looking at with players. It's always there."
"I wouldn't say that he goes overboard," Travis Sanheim said. "I think it's more he knows when he could be better. I think it's a good thing. It's good when guys recognize their mistakes. I've seen it the other way where guys don't ever recognize their mistakes, and then think that they played a perfect game. I think he does a great job of recognizing that, and like Torts said, he's very passionate and competitive."
Walker is fitting in with his teammates off the ice, as well. He's even joined the "7 Up 7 Down" card game run by Sanheim and Travis Konecny, replacing the departed Justin Braun and Kevin Hayes in the group along with Joel Farabee.
"When we started (he was) hot, maybe it's because he was a new player, we didn't know how he plays," Sanheim said. "Now that we've settled in, he hasn't won too many games as of late."
Walker's hot streak at the card table may have come to an end. But his stellar start on the ice is showing no signs of abating.
Future in Philadelphia
It's that continued run of quality play which has raised an intriguing question: How exactly does 29-year old Sean Walker, slated to be an unrestricted free agent this summer, fit in the Flyers' rebuild?
In the short-term, his fit has been seamless. Not only has he turned the second pair from a glaring weakness into a legitimate strength, he's been invaluable in terms of setting a positive example for the young defensemen on the roster, given how quickly he's taken to Tortorella's instructions and aggression emphasis.
"I can talk about it all I want with the players," Tortorella said. "If they don't see someone doing it, and taking a chance, and finding a way to be more successful than not? Coaches can talk, talk, talk. Players are going to follow their teammates."
But Walker's influence goes beyond stylistic preferences and system details. It's about showing the youth on the team how to be a pro, Tortorella noted, serving the same purpose in the locker room that offseason hires John LeClair and Patrick Sharp — who like Walker, took unorthodox paths to NHL success — were brought in to provide on the player development staff.
"They had to do it themselves, I guess if I can put it that way," Tortorella said. "They're not touted as a draft pick or a big money guy right away, whatever it may be, they had to grind away and do it themselves. That's laying down a foundation of being a good pro.
"I think it's invaluable for guys to watch people like that."
Walker's value now extends beyond Philadelphia, however. He's quickly turning himself into an intriguing option for lots of contending clubs — a far cry from the offseason, when Los Angeles essentially gave him away. A righthanded defenseman thriving in big minutes on an expiring contract and with a low cap hit ($2.65 million) is going to be plenty attractive as a trade deadline rental, if the Flyers choose to sell come February.
Walker is fully aware of the possibility.
"It is my contract year as well, so that's something (too)," he noted. "I've got to show this organization — and if this isn't where I end up staying, other organizations – that I belong in the league. Hopefully I can do that for a long time."
Walker isn't a lock to be sold. If the Flyers remain in the playoff hunt, perhaps the front office decides that the team earned the right to play out the season as is, rather than watch the front office sell off key pieces of the lineup for future assets. Nor is it out of the realm of possibility that the Flyers could explore re-signing Walker — particularly if he is open to a reasonably priced deal that doesn't last into his mid-thirties, allowing him to serve as a bridge to the next generation of top blueliner prospects, currently headlined by Oliver Bonk but likely to include a few more after the 2024 draft.
Perhaps in spite — or because of — his humble beginnings, Walker could become a fixture with the Flyers.
"I think if everybody just takes a look in the mirror, and comes and works their hardest every day, and puts their best foot forward, they're gonna get an opportunity eventually," Walker said.
To get that opportunity, he's come a long way — from his injury, his marginalization in LA, and even just last month, when his coach was pleading with the media to pay attention to him.
People are certainly paying attention now. And assuming Walker's play holds, expect the chatter to extend well beyond Philadelphia and go leaguewide, whether he's in a key role for a surprise playoff contender here, or one of the hot tickets come deadline time.